Working With Us

Here's What Partnering with Optimist Looks Like
Optimist is a full-service content marketing agency.
We work as an extension of your team, running all content marketing operations.
Your full-stack marketing team
Our team becomes part of your team, partnering with you to create and execute effective content marketing strategies. We'll bring a team of 5 to help you scale up operations and handle everything from content strategy to writing, design, outreach, and promotion.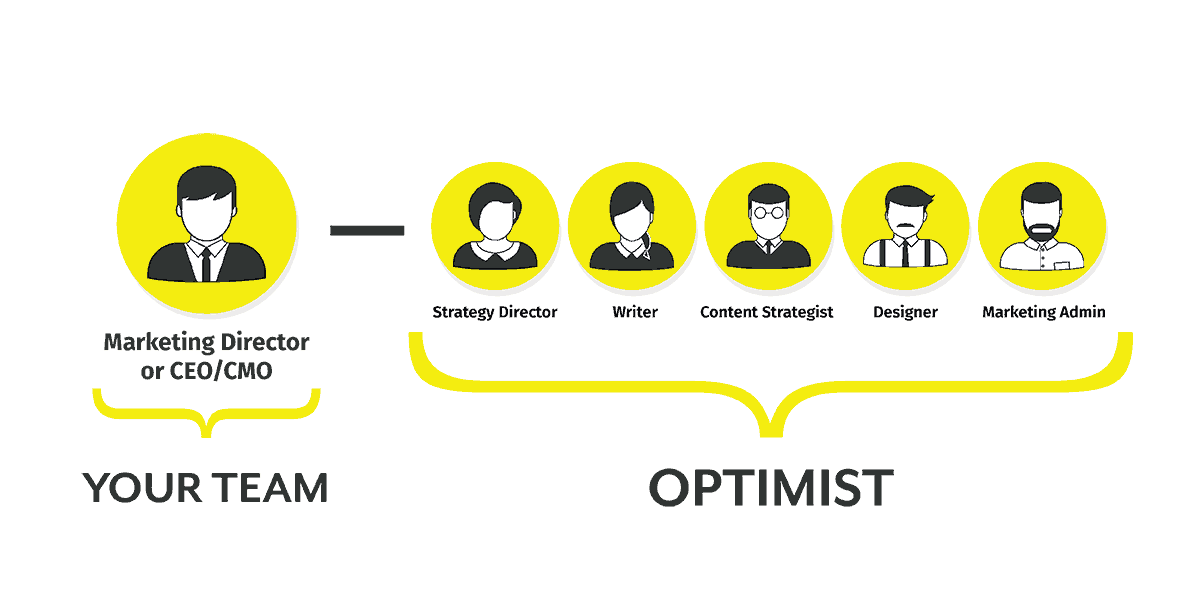 We prefer to work closely with a single contact inside your team (like a marketing director or CMO/CEO), but we can work with you to find the right fit.
Results. Not just content.
When you hire a content marketing agency, you don't want content.
You want results.
You want to generate more traffic, grow users, or drive leads. You don't want to pay for content that sits on your blog and is never read by anyone.
That's what makes Optimist unique.
We know that creating kick-ass content is just a start. We know that in order for that content to be valuable to your company, there needs to be solid strategy, planning, promotion, and outreach behind everything that's created.
If your content isn't creating value, then it's just another expense. If it's not generating real results, then it's a line item rather than an asset.
Our approach focuses on creating content that is an asset, not an expense. And if we can't accomplish that, then we'll be upfront and help you find a partner who can.
We create results—not just content.
Optimist values
Our team is guided by four core values that speak to everything we do–both internally and externally. It represents a mission and a vision for our company, but also a worldview. It speaks to what we value–creativity, honesty, and fairness.
1. Do what's right
People come before profits. Quality matters more than what's quick or easy. Be open, honest, and transparent.
2. Be human
Work matters. People matter more. Be human first, foremost, and always. Give praise, share stories, swap music, laugh, cry, and revel.
3. Ask why
In everything that we do, we should ask why we do it. Seek understanding and insight. Challenge assumptions and push for clarity.
4. Give a shit
Do what you do because you want to do it. Don't do it just because it's a job or because it's what you're told. Take pride and ownership in everything you do or do something else.
Finding a fit
We love working with new clients. But, you should know that we aren't the right fit for everyone. Depending on your goals and expectations, we may not be the partner you need. You can still feel free to reach out–we may be able to help you find someone better suited for your needs.
Here's a few ways to know if we're the right fit or if we should help you find someone else.
We may be a good fit for you if:
You want to invest in long-term, sustainable growth through content and SEO
You want a partner to both direct content strategy and drive operations
You understand content marketing/SEO but don't have a team to execute
You need to quickly scale up operations and start executing on content
Your values align closely with ours (see above)
We may not be the right fit if:
You're looking for strictly content production help
You want overnight results
You want cheap/fluffy/bulk content or black-hat SEO shenanigans